Description:
The Fiamma Blocker Pro front panel is equipped with one large full light crystal window and vinyl mudwall base. The Fiamma Blocker Pro provides more privacy and protection against the wind and light rain. Made of rot-proof vinyl, washable fabric with UV protection. Blocker Pro ties to the front awning legs and is simple to install using elastic hooks and pegs provided.
Can be used in combination with any Fiamma Side Blockers. Suitable for installation to Caravanstore awnings from 2004, F35 Pro and Fiamma Sunstore Awnings. Also suitable for Fiamma motorhome awnings and some other awning brands. The version VW T5 (item number 97960-13-) is also suitable for Omnistor 5102 VW Awning.
Specification:
For available sizes see chart below.
Fiamma Awning Compatibility
Select version to match your awning model and length.
| Model | F45 | F65 | Caravanstore | F35 Pro |
| --- | --- | --- | --- | --- |
| Blocker Pro 260 Van* | F45 260* | | | F35 Pro 270* |
| Blocker Pro 250 | F45 260 | | C/store 255 | F35 Pro 250 |
| Blocker Pro 280 | | F65 290 | C/store 280 | F35 Pro 270 |
| Blocker Pro 300 | F45 300 | F65 320 | C/store 310 | F35 Pro 300 |
| Blocker Pro 350 | F45 350 | F65 340/370 | C/store 360 | |
| Blocker Pro 400 | F45 400 | F65 400 | C/store 410 | |
| Blocker Pro 440 | | | C/Store 440 | |
| Blocker Pro 450 | F45 450 | F65 450 | | |
*Blocker Pro 260 Van is special version to fit F45 260 and F35 270 fitted at heights from 180cm to 220cm
Blocker Pro panel dimensions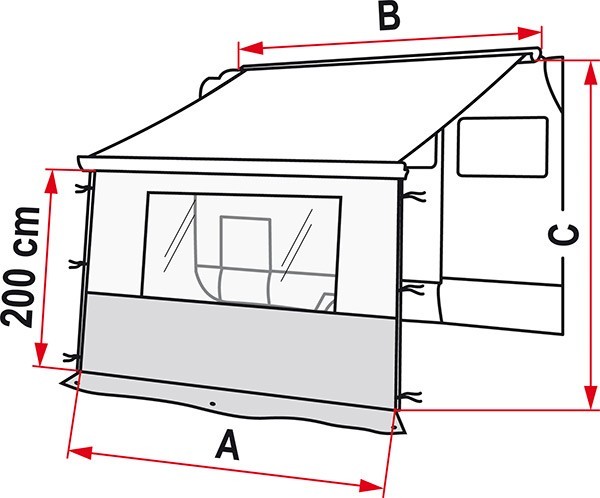 | Model | Length A | Awning Length B | Awning Height C | Weight |
| --- | --- | --- | --- | --- |
| Blocker Pro 260 Van* | 250 cm | 260 - 270 | 180 - 220 cm | 2.7 kg |
| Blocker Pro 250 | 235 cm | 250 to 260 | 225 - 280 cm | 2.7 kg |
| Blocker Pro 280 | 255 cm | 270 - 290 | 225 - 280 cm | 3.0 kg |
| Blocker Pro 300 | 285 cm | 300 - 320 | 225 - 280 cm | 3.2 kg |
| Blocker Pro 350 | 335 cm | 340 - 370 | 225 - 280 cm | 3.8 kg |
| Blocker Pro 400 | 385 cm | 400 - 410 | 225 - 280cm | 4.5 kg |
| Blocker Pro 440 | 415 cm | 440 | 225 - 280cm | 4.9 kg |
| Blocker Pro 450 | 435 cm | 450 | 225 - 280cm | 5.0 kg |